Customer Hotline: +65 6593 3691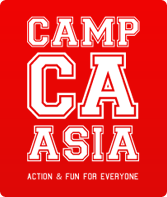 Real Madrid Foundation Football School
Weekly Soccer Development Programme; Training every Monday & Saturday!
The Real Madrid Foundation Football School brings to Singapore the technical excellence, experience and spirit of Real Madrid C.F., the greatest club in world football history.
Inspired by Real Madrid's long and illustrious history, we provide a platform for players to receive not only the best football training in Singapore but also to learn key values and develop their character to become leaders on and off the field.
Kids build aspects like coordination, speed, agility or endurance playing soccer as well as learning the importance of the way to get their objectives, learning the importance of values like teamwork, humility or self-control. Real Madrid Foundation Football School, powered by Camp Asia, applies the same soccer training methodology used in Real Madrid's training headquarters in Spain, the reigning FIFA champions! Now our Camp Asia players can truly say they train like stars. Is your child the next Ronaldo or Zidane?
Focus will be placed on building good teammates, develop risk takers, confident players and offering them the chance to play against other academies. One monthly tournament will be organized to give them the chance to experiment competitive situations with new players.
Real Madrid Foundation Football School Singapore builds on specific skills at each age:
6 through 8 years
Instilling a love of the sport from an early age, children will work on basic patterns of movement, simple dribbling, learn to strike the ball with different parts of the feet, try free kicks and simple feints against a passive opponent. The level teaches the child basic rules of the game and why it's important to respect them.
9 through 11 years
At this level, kids learn to consolidate psycho-motor skills, enhance all-around development skills such as stamina, speed and agility, and focus on basic tactical skills such as heading the ball using different techniques, ball control on the ground and in the air and feints against an opponent.
12 through 14 years
At this level, the child enhances his / her performance by further building on stamina and endurance, learning about complex passing, mixing distances and work on rhythm and coordination in actual situations of play and different kinds of strategies, styles of play and systems.
Classes run Monday and Saturdays - please note you can sign up your child for one or all the classes per week.
Real Madrid Foundation kits are charged at $60 on top of the cost of classes. The kit includes a shirt (including your child's name printed on the back), shorts, and socks. The uniform is compulsory to wear during training.
Mondays (6 weeks):
December 2017: 4, 11
January 2018: 8, 15, 22, 29
| | | |
| --- | --- | --- |
| Age | Sessions | Cost |
| 6-8 | 6 | $159 |

Wednesdays (6 weeks):
December 2017: 6, 13
January 2018: 10, 17, 24, 31
| | | |
| --- | --- | --- |
| Age | Sessions | Cost |
| 6-8 | 6 | $159 |
Fridays (5 Weeks):
December 2017: 15
January 2018: 8, 15, 22, 29
February 2018: 2
| | | |
| --- | --- | --- |
| Age | Sessions | Cost |
| 6-8 | 10 | $132.50 |
All classes are held at Stamford American International School on the Stamford Field.
Please also check out our FAQs page, and if you can't find what you're looking for, call us or drop us an email.
Soccer Coach
Albert Carrió Prat
Director of Football
Albert has been entrusted with the responsibility of leading the technical team in ensuring its continuous professional and methodology development as the Technification School continues to grow in Singapore and leading the school's project developing and supervising programmes for all kids levels and ages.

After more than 15 years playing football and a short period as 5-a side footballer in Spain, Albert decided to start his career as a coach. He started studying to be a youth football coach when he was 18 and now Albert holds a UEFA 'B' Licence. This is in addition to a Bachelor's Degree in Physical Activity and Sports Sciences and a Master's Degree in Detection and Development of Talent in Football with High Honours at Real Madrid Graduate School – Universidad Europea.

Before arriving at Singapore, Albert coached for 7 years at different academies in Spain, with different roles as coach, coordinator or technical director before working with the Real Madrid Foundation, firstly in Spain as National Coordinator of Schools and then representing Real Madrid Foundation in the first ever Campus Experience in Malaysia held in Sarawak in December 2014.
Rafael Navarrete Alegría
Assistant Technical Director
Rafa has always been passionate about not only football but all sports. That is why he decided to make sport his way of living. Rafa has a bachelor degree in Education in Physical Education and he is currently completing the last year of Sports Science Degree.

As a UEFA 'A' Licence holder, Rafa has acquired his coaching skills at Fundación Real Madrid, where he started in 2009. Either as a National Coordinator (3 years) or as a Coach (5 years) at social football schools in Madrid, or coaching at clinics in USA, Japan or in many countries in Europe, Rafa has gained a deep understanding of the Real Madrid methodology and the values and principles the Fundación Real Madrid follows.

While he has coaching experience with pro teams as for example CF Internacional de Madrid (3rd Division) in Spain, Rafa's main interest has always been placed on coaching children from all ages, ability levels and backgrounds. His second surname Alegría (Happiness in English) well describes his character and attitude to life.
Igor Ferreira
Assistant Technical Director
Igor started playing football professionally aged 17 years old in Brazil. Over 13 years playing professionally in countries such as Spain, Sweden, Switzerland, Singapore and Australia.

While playing in Spain, over a period of two years, Igor trained two youth teams in the sporting academy of the club (benjamines e infantiles). Whilst playing for Hougang United, Igor shared his experience by giving training as an assistant and professional footballer in the Real Madrid Foundation in Singapore. Igor also has acted as assistant coach for Tiong Bahru FC - NFL league in Singapore. In Brazil, Igor started playing football in the minor leagues with Corinthians Sports club, between the ages of 13 and 19, turning professional with the same club. He later played with Juventud FC, União TImbó FC y EC São Jose, after which he left Brazil to play in Europe.
In his academic studies, Igor has obtained an associates degree in IT. Igor has experience of working in IT positions and has also enhanced his IT knowledge by supporting the club in which he played in Singapore (Hougang United FC) creating and intranet through which the players, trainers and directors can exchange ideas ahead of matches, training information, individual statistics, etc.
Igor's native tongue is Portuguese and he also speaks fluent Spanish. He has an advanced level of English and can hold basic conversations in German.
For Parents (Saturdays Only)
Free Parent Boot Camp
Sign your kids up for any Saturday Program and enjoy a free Boot Camp session with our Trainer Aaron at the same time in Washington Plaza.
He started as an Army Fitness Trainer and now works as a Personal Trainer at The British Club so get ready for Aaron to kick you into gear every Saturday morning!
Simply turn up, no need to register:
Class 1 - 8.05am
Class 2 - 9.05am
Class 3 - 10.05am
Free WIFI
What's more the Parent Café will be open with free wifi for parents to relax while their kids enjoy their favorite sports.