Customer Hotline: +65 6593 3691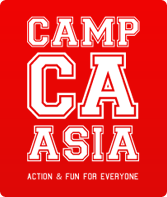 Simply pick your child's favorite type of activity
Multi-activity
---
Let's get physical!
---
Let's be creative!
---
Super Chef

Passion for Art

Drama Academy

AGES 4-11

Magic
Clever stuff!
---
Gadgets and gizmos!
---
Lego® Robotics

Tech Savvy

Creative Innovators - Drones

Electronics
Why Camp Asia?
---
Testimonials
---
My daughter Millie loves Camp Asia! She comes home with a different creation every day that she has made in her favorite lesson, art. It is also hassle free for me with lots of camps to choose from, an easy online booking system, and an all inclusive pricing.

Camp Asia has been a great opportunity for my kids, Corban and Adalyn to have fun, try out new activities and make friends with children from all over the world. The Camp Asia staff were fantastic and went the extra mile to make sure they had a great experience and everything went smoothly as they were nervous attending their first camp.

Eloise attended the Multi-Activity camp and had a fantastic time. She met some great new friends and teachers, and tried new activities for the first time, such as Judo, drama and tennis. The camp has been a great confidence builder. She can't wait for the next holiday!