All of our camps are located at two of the best educational and recreational venues in Singapore: international schools chosen for their outstanding, safe facilities, excellent catering and accessible location. The schools' own facilities are supplemented by our own, specialist equipment when required.
Both locations can be reached easily by automobile, bus or MRT. For your convenience, we also offer a dedicated two-way bus service with stops across the island for just SG$120 for the week.
Stamford American International School

The SAIS SG$300 million campus houses world-class academic and recreational facilities including three swimming pools, two rock climbing walls, two sports arenas, extensive sports field, 500-seat theatre, dedicated music, IT and art rooms.
Location: 1 Woodleigh Lane (off Upper Serangoon Road) Singapore 357684
Transport:
MRT - Woodleigh (Doorstep)
Buses - #13, #100, #107, #107M, #133, #135, #147, #155, #853, #853C and #NR6 stop right outside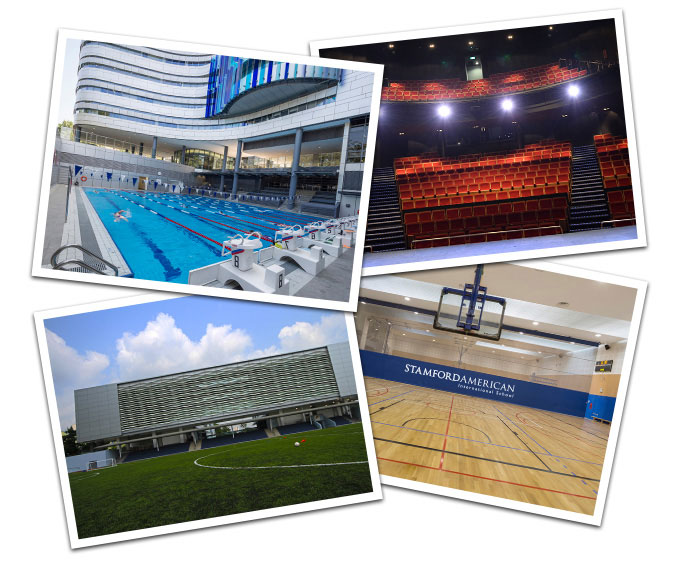 Web: www.sais.edu.sg
Australian International School

This large campus with extensive facilities is spread over well-spaced grounds in central Singapore. It boasts two soccer fields, swimming pool, three gymnasiums, cooking classroom, dedicated music, IT and art rooms.
Location: 1 Lorong Chuan, Singapore 556818
Transport
MRT - Lorong Chuan (5-minute walk)
Buses - #73, #105 and #159 stop right outside
Web: www.ais.com.sg