Customer Hotline: +65 6593 3691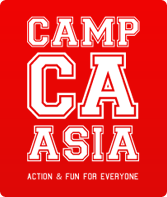 holiday camps at camp asia
Loved by kids, trusted by Mom and Dad
Less than 2 weeks to go until Easter Camp kicks off! Ban Boredom at Camp Asia from 2-6 April and 9-13 April at the Australian International School.
There's more camps than ever to choose from - We've added Magic, Parkour and Aviation Camps to our stellar line-up of Super Soccer, Super Chef, Super Basketball, Drama, Robotics, Creative Innovators and Science. Let the kids spend a week doing what they love - or learning something new.
We welcome all children aged 3 to 16 years old to join our camps at Camp Asia!
Multi-Activity (ages 3 through 8)
For multi-talented children, this multi-activity camp offers a variety of fun activities from arts and crafts to sports and performing arts!
Camp Cost: $650
Super Sports (ages 6 through 16)
A sport-packed camp for sport-mad kids including soccer coaching with Real Madrid Technical Academy!
Camp Cost: $650
Super Soccer (ages 6 through 14)
REAL MADRID Foundation Football School take players to the next level. Could the next Cristiano Ronaldo be on our shores? Real Madrid know what it takes.
Camp Cost: $710
Super Basketball (ages 6 through 16)
This camp is designed for kids to enjoy the ultimate basketball experience. Learn to love the game from former pros in an intensive basketball week.
Camp Cost: $650
Super Gymnastics (ages 4 through 8)
Flip, twist, tumble and somersault! Who doesn't like to see their child be active, confident and healthy?
Camp Cost: $650
Super Chef (ages 6 through 16)
Foodies - celebrate Easter Australian-style! Kids will whip up a feast of Easter classics such as homemade hot cross buns and Simnel cake to Aussie epics such as the lamington!
Camp Cost: $710
Mad World of Science (ages 6 through 11)
Fizz, pop, wow! Your future little Einstein will have a blast observing, experimenting and s-t-r-e-t-c-h-ing their imagination.
Camp Cost: $650
Tech Savvy (ages 6 through 16)
This camp will challenge your little geniuses to use computer programming to build interactive content for stories, games, music and art.
Camp Cost: $650
Math Mania (ages 6 through 8)
Whether your child is already a Math Whiz or needs encouragement this camp is for them!
Camp Cost: $650
Lego® Robotics (ages 6 through 11)
Budding engineers build, test and program their own robots. Get designing!
Camp Cost: $650
Drama Academy (ages 4 through 11)
Kids will use their imagination, movement and vocal skills as they act out scenes with their peers. Beatrix Potter for the young'uns, Treasure Island for 6-8 year olds, while the older group delve into Shakespearean tales!
Camp Cost: $650
Passion for Art (ages 6 through 11)
Understanding, appreciation, materials and techniques. Go create guys!
Camp Cost: $650
Mini Mandarin (for ages 4 through 8)
What an important language. Taught by native speakers.
Camp Cost: $650
Creative Innovators (for ages 9 through 16)
This camp will inspire, engage and allow every child to create a range of innovative products using a variety of technology.
Camp Cost: $710
Electronics (for ages 6 through 16)
Stimulate your child imagination and engineering skills with electronics!
Camp Cost: $710
Magic (for ages 6 thorugh 12)
For those who love to entertain! Wow your friends and family with a new bag of tricks. Kids from 6-12 can expand their creative minds through Magic.
Camp Cost: $650
Parkour (for ages 7 through 12)
There's a new way to get around. Singapore may be a concrete jungle, but kids can make it their playground through strength, agility and fearlessness!
Camp Cost: $650
Aviation (for ages 6 through 12)
Stimulate your child imagination and engineering skills with electronics!
Camp Cost: $650
English Language Learning (for ages 5 through 16)
Give your child the opportunity to improve their English language skills and help prepare them for the start of new school year
Camp Cost: $650