Customer Hotline: +65 6593 3691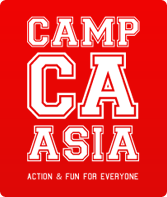 Super Gymnastics
Flip, twist, tumble and somersault! Who doesn't like to see their child be active, confident and healthy? Gymnastics teaches children physical literacy, a combination of fundamental movement patterns and foundational sports skills. With these skills, children have a strong foundation to explore and enjoy different sports and physical activities, keeping them active and healthy for life. On top of these, gymnastics also helps develop social skills and teaches teamwork; all essential in succeeding in and out the gym.
Upcoming Dates
Camp Details
| | | | |
| --- | --- | --- | --- |
| Age | Days | Timing | Price Per Week |
| 4 through 5 | Monday to Friday | 9 am to 3 pm | $650 (No Pro Rata) |
| 6 through 8 | Monday to Friday | 9 am to 3 pm | $650 (No Pro Rata) |
*Price includes a yummy lunch, healthy morning and afternoon snacks and an awesome Camp Asia T-shirt
Gymnastics Coach
Joy Koh
Head Coach Joy Koh is currently the highest qualified FIG Coach (Level 3) and FIG Judge (Cat II) in Singapore and is passionate about the development of Gymnastics in Singapore and Camp Asia. Prior to joining Camp Asia, she has coached in Australia for 3.5 years and coached at the prestigious International Gymnastics Camp in USA in the summer of 2011, alongside World & Olympic Champions Nastia Liukin, Paul Hamm and Danell Leyva.
She has judged at the SEA Games (2003 Hanoi, 2007 Korat, 2011 Palembang, 2015 Singapore), Commonwealth Games (2014 Glasgow), Asian Games (2006 Qatar, 2010 Guan gzhou), World Cup (2007 Shanghai, 2013 Anadia), and World Championships (2011 Tokyo, 2013 Antwerp, 2014 Nanning).
She served on the committee of Singapore Gymnastics and holds coaching and judging workshops for the National Sport Association as well. Joy believes in lifelong continual learning and also holds trainer certifications in Crossfit (Level 1), Crossfit Gymnastics (Level 1), and Yoga Alliance (200hr).
Joy brings to Camp Asia a wealth of experience in growing, delivering and overseeing the Gymnastics program in Singapore and Asia across Cognita Schools.
Chuin Dub Fong
Coach Dub is an internationally accredited FIG MAG Coach (Level 1), nationally accredited WAG Coach (Level 1), and WAG Judge (Level 1). He also possesses coaching accreditations from British Gymnastics and Gymnastics Australia. He has recently completed a TRA L1 coaching course by Singapore Gymnastics to further interest in developing gymnasts keen on trampoline gymnastics and to explore the possibilities of using the trampoline as a training aid for artistic gymnastics.
Prior to joining Camp Asia, he has coached in Singapore for 3 years at clubs and schools for both recreational and junior competitive levels. He has judged at local competitions organised by Singapore Gymnastics and international schools for the past 2 years.
Dub brings to Camp Asia experience in delivering gymnastics programs to a variety of environments with their own unique challenges.
Vitali Kazlou
Coach Vitali is a professional artistic Gymnastics coach for competitive and recreational levels with all-round coaching experience and a strong background in high-tier circus performance, internationally. He is a qualified Gymnastics Coach that is committed to developing the Camp Asia gymnastic program.
He participated in the preparation of the national team of the Republic of Belarus in artistic gymnastics for the World Cup, the Olympic Games in Sydney (1998-2000), Professional Circus Artiste -Japan (2000), Performed Aerial High Bar Gymnastics Act. (2000).
Sample Timetable
Time
Monday
Tuesday
Wednesday
Thursday
Friday
08:30-09:00

Arrival

09:00-:09:30
Warm Up Games
Warm Up Games
Warm Up Games
Warm Up Games
Warm Up Games
09:30-10:00
Line Drills (Locomotor)
Line Drills (Locomotor)
Line Drills (Locomotor)
Line Drills (Locomotor)
Line Drills (Locomotor)
10:00-10:30
Snack
10:30-11:00
Strength & Conditioning
Strength & Conditioning
Strength & Conditioning
Strength & Conditioning
Strength & Conditioning
11:00-11:30
Flexibility Training
Flexibility Training
Flexibility Training
Flexibility Training
Flexibility Training
11:30-12:00
Vault & Trampoline
Vault & Trampoline
Vault & Trampoline
Vault & Trampoline
Vault & Trampoline
12:00 - 12:45
Lunch
12:45 - 13:15
Bars
Bars
Bars
Bars
Bars
13:15-14:00
Beam
Beam
Beam
Beam
Beam
14:00-15:00
Floor
Floor
Floor
Floor
Floor
15.00
Afternoon Snack and Home
Some stuff you'll need to know before booking:
These details apply to all camps and both of our campuses.
Dropping Off
Activities kick off at 9 am, but we have free drop off from 8.30 am where children can join in a free choice activity.
Medical
We have a full time nurse on site for every camp week to manage health checks every morning and administer medication/first aid if it's needed. All camp staff have up-to-date first aid training.
Food
Lunch and snacks are included in the cost of your camp. If your kid is a vegetarian or doesn't/can't eat beef, pork, seafood, dairy or eggs, that's cool. Just tell us beforehand in your child's details online… or most other diet needs come to that. If your kid has a nut allergy, don't worry, we don't go near there either Camp Asia has a no nut policy.
Bus Service
We offer a highly convenient, safe, secure and sociable bus service to and from camp, calling at a stop near you. Click here for all the info.
Please also check out our FAQs page, and if you can't find what you're looking for, call us or drop us an email.